They say that life takes unexpected turns. In the early morning hours of Thursday, May 23rd, our lives took one of those turns as the Hill Productions & Media Group, Inc. company headquarters in Bloomfield, Iowa suffered a catastrophic fire, resulting in total loss of the building and contents. While a loss like this is saddening and definitely heartbreaking, we will be stronger for it. We are grateful, of course, that no injuries were sustained.
Within hours, our leadership team had fully implemented our disaster procedures, which enabled our team to miss not even one hour of work time. Our commitments to clients continued as normal, even including a full schedule of meetings.
While our building was a beautiful place to work, which almost perfectly showcased our company brand and philosophies, we realize that it was a tool. HPMG is about people, and people continue to be our main priority.
Our Clients. We continue to serve hundreds of clients around the globe in all service areas including Integrated Marketing, Business Consulting, and Creative Services. Our systems are all digital and our data file storage is nearly 100% cloud-based.
Our Team. Our entire team continues employed as normal. As with many companies today, 40% of our team works remotely at least part of every work week. While we formulate the next steps of a rebuilding plan, our team will temporarily work both at 402 Goode Street (our previous office space in Bloomfield) and also in their respective remote locations.
Our "Do Love Well" 2019 Giving Initiative Grant Recipients. We remain committed to our philanthropic program which will ultimately touch the lives of thousands of people across the Midwest. Just this week we have begun announcing the first round of recipients across our social media channels.
All of us at HPMG are truly thankful for the tremendous show of support from our clients (special shoutout to Levi Good of Dutch Country Living who showed up at the fire scene at 3 am to provide emotional support!), our vendors, our partners, community, and others over the last few days. Keep the love coming! We have a long road ahead of us, but we know our best days are ahead of us.
Diana and I would also like to personally thank our leadership team at HPMG. Michael Kaleponi (COO) and Isle Hill (Director of Operations) have been tirelessly working – even over the holiday weekend – to ensure salvage and cleanup of whatever possible from the building debris, and make sure our team has a functioning temporary office space. Also kudos to Monty Hill, our general maintenance man, who has hauled furniture around, coordinated services, and done anything else needed.
And finally, I want to thank our hardworking and fearless firefighters (including Bloomfield Chief Jeff McClure), police officers, and sheriff's department members. Their quick response and professionalism is always impressive.
So, as we look toward the coming days, weeks and months, we may not be certain of WHERE we will be working, but our promise remains the same as it always has been – HPMG is here for YOU. When you need us, call 641.664.1216 or email info@hillproductionsinc.com.
All the Best,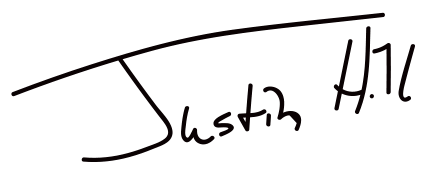 Justin Hill
CEO & Founder